Make way for a day of joy, laughter, and endless wonder as your little one's 3rd birthday approaches! Turning three is a milestone worth celebrating, and we've got a treasure trove of enchanting party ideas to make this special occasion an unforgettable adventure for your child and their young guests.
Whether you're seeking a whimsical wonderland, a wild safari, or a superhero showdown, our creative and imaginative 3rd birthday party ideas will set the stage for a joyous gathering cherished by both young and old. Prepare to embark on a journey of excitement and delight as we present a delightful array of themes, decorations, games, and treats to make this 3rd birthday extravaganza a truly magical affair!
❤️
These fabulous and fun party ideas can be used for kids 3-9 years old!
3rd Birthday Party Ideas for Girls: Creating Magical Memories
A little girl's 3rd birthday is a significant milestone, filled with boundless wonder and excitement. Planning a memorable celebration that will leave a lasting impression as a parent can be joyful and challenging. From whimsical themes to delightful activities, these suggestions will ensure that her third birthday is a magical experience she'll cherish forever.
Enchanted Fairy Garden Party
Bring the mystical world of fairies to life with an Enchanted Fairy Garden Party. Decorate the venue with twinkling lights, pastel-colored flowers, and plush mushrooms. Encourage guests to dress as fairies and give them glittery wings and flower crowns.
Set up a craft station where the little fairies can create their own magic wands or fairy houses. A treasure hunt for hidden fairy gems will add an element of excitement and adventure to the party.
Princess Tea Party
Transform your home into a royal palace with a Princess Tea Party fit for a queen. Set up a beautifully adorned table with fine china, lace doilies, and teapots. Encourage the young princesses to come dressed in their favorite regal attire.
Organize a mini etiquette lesson on how to sip tea like true princesses. Alongside tea, serve dainty finger sandwiches, elegant cupcakes, and royal fruit skewers. The party's highlight can be a visit from a princess character, who can entertain the girls with stories and games.
Rainbow Unicorn Extravaganza
For a magical and colorful celebration, host a Rainbow Unicorn Extravaganza. Deck the venue with rainbow decorations, iridescent balloons, and unicorn banners. Face painting and temporary tattoos with unicorn motifs will be a hit with the little guests.
Plan a unicorn-themed obstacle course, and provide unicorn horn headbands as a party favor for the participants. Delight their taste buds with a unicorn cake, rainbow cupcakes, and cotton candy clouds.
Under the Sea Adventure
Dive into an underwater wonderland with an Under the Sea Adventure party. Use blue and turquoise streamers, balloons, and fishnets to create an immersive ocean atmosphere. Set up craft stations for making seashell necklaces or ocean-themed sand art.
Host a bubble dance party where the kids can dance and pop bubbles to their heart's content. Serve snacks like fish-shaped crackers, seaweed wraps, and blue Jello cups for a taste of the ocean.
Superhero Training Camp
Empower your little girl and her friends with a Superhero Training Camp. Create a training course with various obstacle challenges, like leaping over tall buildings (obstacle course), rescuing stuffed animals (target throwing), and navigating through laser beams (streamers).
Provide superhero capes and masks as party favors, and encourage the kids to come dressed as their favorite superheroes. Serve power-packed snacks like superhero sandwiches and energy-boosting fruit smoothies.
Disney Princess Ball
Celebrate your little princess's 3rd birthday with a Disney Princess Ball. Invite all her favorite princess characters to make special appearances. Decorate the venue with iconic scenes from various Disney movies.
Plan a royal ballroom dance where the little guests can waltz with their favorite characters. Serve a variety of delicacies inspired by Disney movies, such as "Beauty and the Beast" inspired "grey stuff" and "Frozen" themed snowflake cookies.
Teddy Bear Picnic
For a delightful outdoor celebration, organize a Teddy Bear Picnic. Set up picnic blankets and cushions in a garden or park area, and invite the guests to bring their favorite teddy bears. Arrange a scavenger hunt for the kids, where they search for hidden treasures with their furry friends.
Serve picnic-friendly snacks like mini sandwiches, fruit kabobs, and teddy bear-shaped cookies. End the day with a teddy bear parade, where each child showcases their teddy bear's unique personality.
Circus Spectacular
Step right up to a thrilling Circus Spectacular birthday party. Create a festive carnival atmosphere with vibrant decorations, circus tents, and circus-themed games. Set up stations for face painting, balloon animals, and juggling lessons.
Organize a talent show where the little performers can showcase their unique skills. Classic carnival treats like popcorn, cotton candy, and hotdogs will be a big hit with the kids.
Artistic Masterpieces
Unleash the inner Picasso in every child with an artsy birthday bash. Set up various art stations featuring finger painting, coloring, and crafts like making colorful friendship bracelets.
Supply smocks and aprons to keep the little artists clean and provide frames for them to display their masterpieces, doubling as party favors.
Enchanted Animal Adventure
For the animal-loving birthday girl, an enchanted animal adventure party is sure to delight. Consider hosting the party at a local petting zoo or animal sanctuary.
Alternatively, bring the animal kingdom to your venue with animal-themed decorations and a visit from a friendly animal handler. The children will love meeting and learning about various furry and feathery friends.
Frozen Winter Wonderland
Embrace the magic of winter with a Frozen-themed party. Decorate the venue with snowflakes and icicles to create a winter wonderland. Let the little girls dress up as their favorite Frozen characters and organize a "Frozen Dance-Off" to iconic songs from the movie. Serve snowflake-shaped cookies and a stunning Frozen-themed cake to complete the wintry celebration.
Ballet Princess Ballerina Bash
Transform the party into an elegant ballet princess ballerina bash. Set up a ballet studio with ballet barres and tutus for each guest.
Arrange a mini ballet class, led by a dance instructor, where the girls can learn basic ballet moves. End the day with a graceful ballet performance and a ballet-themed cake fit for tiny ballerinas.
DIY Spa Day Soiree
For a relaxing and pampering birthday celebration, throw a DIY spa day soiree. Set up spa stations with nail painting, DIY facials, and hair braiding. Provide cozy robes and cucumber slices for an authentic spa experience. Let the girls indulge in a "Spa Fashion Show" after their beauty treatments, showcasing their spa-day looks.
Petite Chef Cooking Party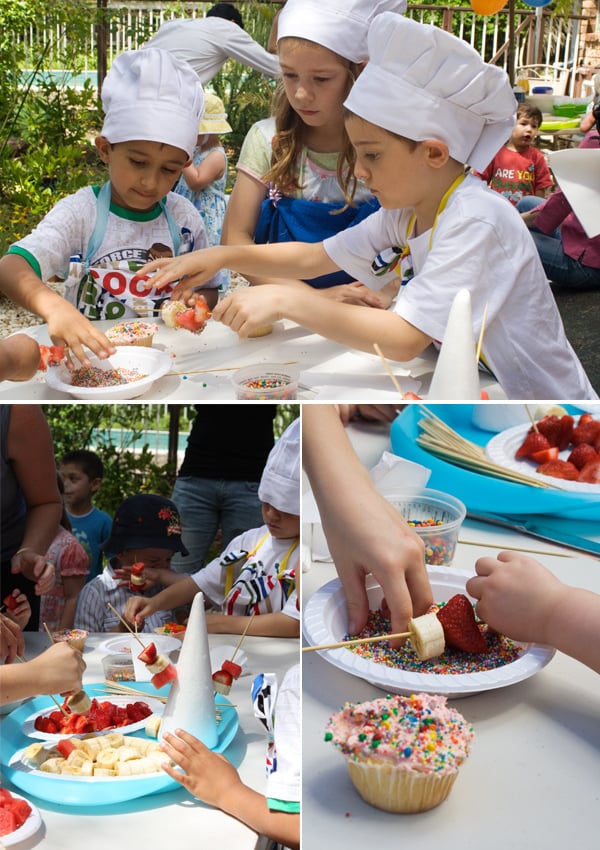 For little girls with big culinary dreams, a petite chef cooking party is the way to go! Host a cooking class where the girls can create mini pizzas or decorate cupcakes.
Provide chef hats and aprons to make them feel like professional chefs. Organize a friendly "Junior Chef Cook-Off" to showcase their culinary masterpieces.
Adventure in Candyland
Take the kids on a sweet adventure to Candyland! Transform the party area into a candy-filled wonderland with vibrant decorations and giant lollipops. Create a candy buffet with an assortment of sweet treats and organize a "Candyland Scavenger Hunt."
Play games like "Gummy Bear Stack" and "Candy Corn Toss" for endless sugar-coated fun.
Creative 3rd Birthday Party Ideas for Boys - Celebrate in Style!
Planning a memorable 3rd birthday party for your little boy is an opportunity to create lasting memories and bring joy to his special day. From adventurous themes to engaging activities, the options are limitless when throwing a party that will leave your guests talking for weeks. Let's dive into the world of imagination and fun as we explore these thrilling ideas for boys' birthday celebrations!
Dinosaur Adventure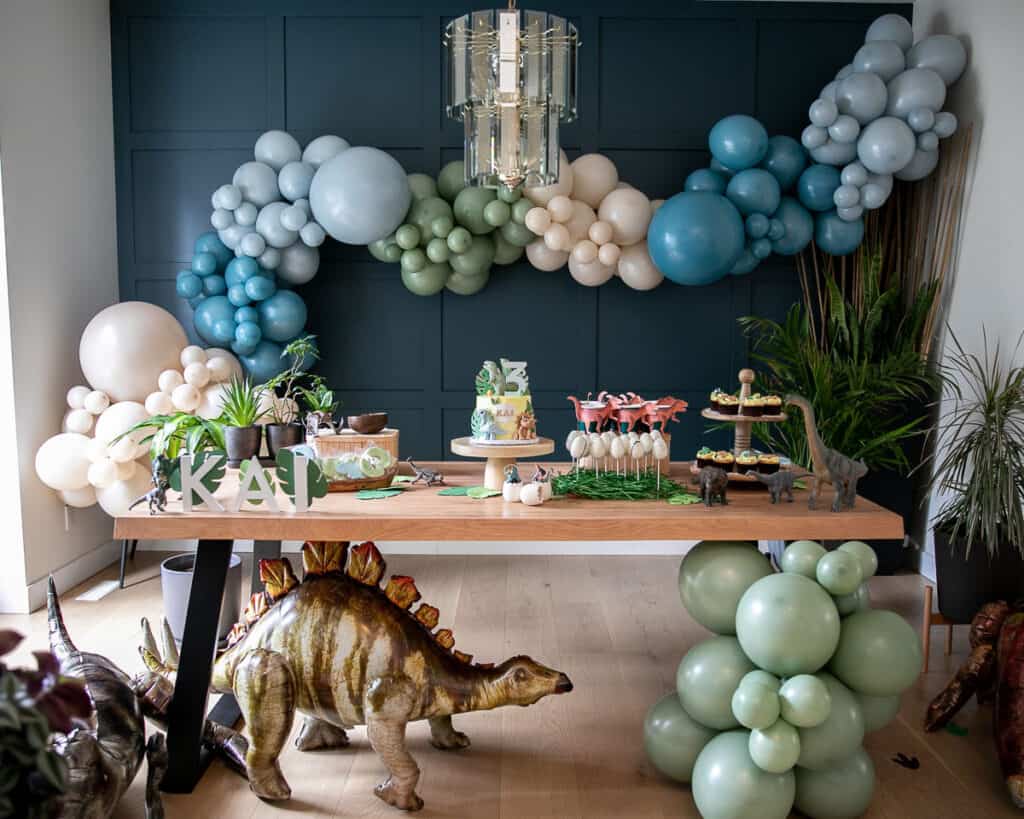 Take a step back in time with a prehistoric dinosaur-themed birthday bash. Set the scene with dinosaur-themed decorations and create a "dino dig" activity where kids can unearth fossils and dinosaur bones.
Organize a dinosaur egg hunt, and remember the roar-some dinosaur cake! You can also hire a dinosaur expert to educate the kids about these fascinating creatures or set up a dinosaur-themed movie corner for some entertainment.
Pirate Party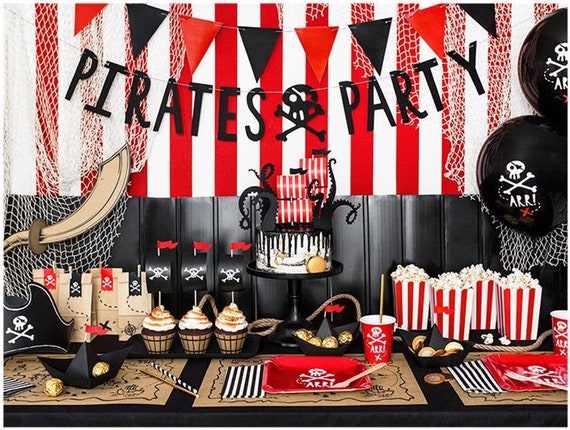 Set sail on the high seas with a swashbuckling pirate-themed birthday party. Transform your backyard into a pirate's cove and let the little pirates hunt for hidden treasures during a thrilling scavenger hunt.
Organize a pirate ship crafting activity using cardboard and paint, and provide eye patches and bandanas for all the kids. To top it off, a pirate-themed cake and some "pirate punch" will ensure everyone has a good time!
Space Odyssey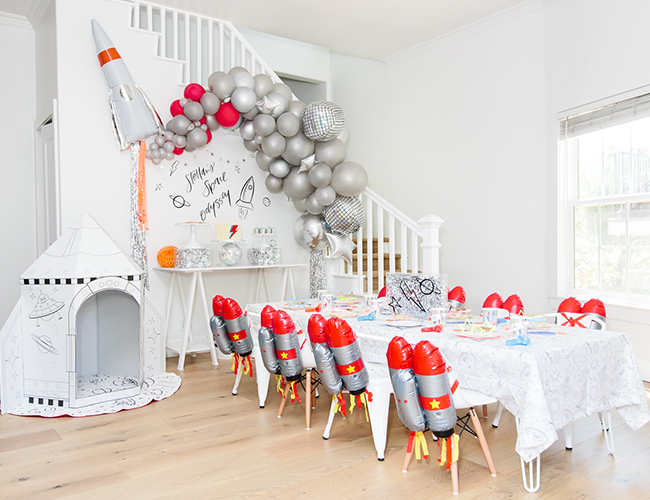 Blast off into the cosmos with an out-of-this-world space-themed party. Decorate the party area with planets, stars, and rockets, and provide astronaut helmets and space suits for the young space explorers.
Plan exciting space-themed games, like "moonwalking" races and rocket launching competitions. For a memorable experience, consider hiring a mobile planetarium to give the kids a captivating stargazing session!
Construction Zone Fun
For those little boys who love big trucks and buildings, a construction-themed birthday party is the way to go! Decorate the venue with caution tape and construction signs, and set up various construction play stations with toy bulldozers, diggers, and dump trucks.
You can even arrange a sandbox for the kids to play with toy tools and create their mini-construction sites. Serve snacks in mini construction hats, and watch the little builders have a truckload of fun!
Jungle Safari Expedition
Embark on an adventurous jungle safari right in your backyard! Transform the party area into a lush jungle with faux vines and animal cutouts. Organize a safari scavenger hunt where the kids can search for hidden plush animals.
Hire a face painter to transform the children into their favorite jungle animals and arrange for animal-themed crafts and activities. A safari-themed cake with animal figurines will add the perfect finishing touch to the wild celebration!
Sports All-Star Bash
A sports-themed party is a guaranteed winner for active little boys who love sports. Set up various sports stations, such as soccer, basketball, and mini-golf, to let the kids showcase their athletic skills.
Arrange a friendly competition with medals or ribbons as prizes for all participants. Custom jerseys or caps with each child's name make fantastic party favors, and a sports-themed cake will score big with young sports enthusiasts!
Firefighter Heroes
Celebrate your little hero's birthday with a firefighter-themed party! Decorate the venue with red and yellow streamers and firetruck cutouts. Organize a firefighter obstacle course and a "fire rescue" game where kids can "put out fires" with water guns.
Provide firefighter hats and jackets for the children to wear during the party, and have a real firetruck visit the party for a hands-on experience. A firetruck-shaped cake will be the highlight of this heroic celebration!
Farmyard Fun Fiesta
A farmyard-themed party is an excellent choice for kids who adore farm animals. Decorate with hay bales, farm animal cutouts, and sunflowers. Set up a "Farm Animal Petting Zoo" with plush animals and let the kids interact and play. Organize an "Egg and Spoon Race" for a good old-fashioned farmyard competition.
Adventure Time in the Wild West
Transform your party venue into a wild west frontier with a cowboy-themed party. Encourage guests to wear cowboy hats and bandanas and set up a photo booth for memorable snapshots. Organize a "Gold Rush" game where kids can find "gold" coins hidden around the party area.
Science Explorers Lab
A Science Explorers Lab party will be a blast for little boys with curious minds and a love for experiments! Set up a science lab complete with beakers, test tubes, and lab coats for all the guests. Conduct safe and exciting science experiments suitable for their age, such as colorful chemical reactions or fizzy potions.
Organize a science-themed treasure hunt where the kids follow clues to discover scientific mysteries. Hand out lab-themed party favors like magnifying glasses or mini science kits to inspire future scientific adventures.
Race Car Rally
A Race Car Rally is perfect for kids who love all things fast and furious. Decorate the venue with checkered flags, racing banners, and toy cars. Set up a mini racetrack for remote-controlled cars or go-karts.
Organize a pit-stop challenge where kids can "refuel" their cars with snacks and drinks. Design custom race car decals or let kids decorate their cars using stickers and markers. A race car-themed cake or cupcakes will be a delightful treat for all the little speedsters.
Party Ideas Galore!
In conclusion, organizing a memorable and joyous 3rd birthday party is an opportunity to celebrate the growth and development of your little one in style! You can create an enchanting experience for young guests and proud parents by incorporating creative themes, engaging activities, and delightful decorations.
Whether it's a magical fairytale adventure, a thrilling superhero escapade, or a cheerful animal safari, the possibilities are endless to make their special day unforgettable.
So, go ahead and put your party planning hat on, and get ready to witness the gleeful smiles and laughter that will fill the air at your child's fantastic 3rd birthday celebration.
Happy party planning!
Gift Ideas For 3 Year Olds
More Party Fun
Kids Party FAQs
Whether this is your first kid's party or your 10th, there's still a lot to remember. Here's some FAQs to help you.
What Are Some Popular Themes for a 3rd Birthday Party?
There are numerous fun and age-appropriate themes for a 3rd birthday party. Some popular choices include cartoon characters, superheroes, animals, princesses, dinosaurs, outer space, and circus themes. Choose a theme your child adores, and incorporate it into the invitations, decorations, and activities to create a cohesive and exciting experience.
Should I Host the Party at Home or a Venue?
The decision between hosting the party at home or a venue depends on your preferences and the number of guests. Hosting at home provides a familiar and comfortable setting but might require more cleaning and preparation. On the other hand, a rented venue can accommodate larger guest lists and often comes with added amenities, but it may be more expensive. Consider your budget and convenience when making this choice.
How Long Should the Party Last?
A 3rd birthday party typically lasts between 2 to 3 hours. Young children have short attention spans, so a concise and well-structured timeframe will keep them engaged and happy. Plan the party during a time of day when your child is usually at their best, such as after a nap.
What Food Should I Serve at the Party?
When it comes to food, keep it simple and child-friendly. Finger foods like mini sandwiches, pizza slices, fruit kebabs, veggie sticks with dip, and bite-sized snacks are excellent options. Remember to include a cake or cupcakes to celebrate the birthday! Consider any dietary restrictions of the guests and have some alternatives available.
How Many Games and Activities Should I Plan?
For a 3rd birthday party, two to three games or activities are usually sufficient. Young children enjoy interactive and playful experiences. Classic games like musical chairs, a piñata, or a scavenger hunt are always a hit. You can also set up a craft station where the kids can decorate their party hats or make simple art projects.
Should I Arrange for Entertainment?
Hiring professional entertainment is unnecessary but can excite the party. Consider hiring a clown, magician, face painter, or character impersonator based on your party theme. Alternatively, you can involve parents or older siblings to dress up and entertain the kids with games and activities.
What Should I Include in the Party Favor Bags?
Party favor bags are a lovely gesture to thank the guests for attending the celebration. Fill them with age-appropriate items like small toys, stickers, crayons, coloring books, bubbles, and a piece of candy. Personalize the bags with the guests' names to make them feel extra special.
❤️

Here at Mothers Best Buys we love to provide advice to you about issues around parenting. But always speak with a professional if you have concerns. The products we mention are handpicked by us to be a great choice based on our own reviews and those of others. We may receive a commission if you choose to purchase any items we mention.