Ready to hit the skies but dreading the idea of lugging a bulky stroller around?
We've got you covered! This article will help guide you through our top picks for the best travel strollers, so that long walks with your little one can be an enjoyable experience. From lightweight and portable to easy-to-fold models – we'll show you exactly what to look out for during your search.
With these suggestions, plus great tips on how to pick a perfect model for your family, this is sure to be an invaluable resource in no time at all. Not only will it enhance your next holiday abroad, it might also save you valuable money as well!
Keep reading and find out now why travelers have been raving about our selection of recommended strollers!
Why Do You Need A Travel Stroller?
Avoid the headache of traveling with kids and make life easier for everyone by taking along a stroller! Not only will it keep your kiddos comfortable during long trips, but you'll also be able to stay in control - no lost little ones here.
Whether heading on an airplane journey or visiting Disney World, having the perfect reliable solution at hand can turn any vacation into one that's stress-free and enjoyable.
Grab a sturdy set of wheels today and hit the road without worry – happy travels!
And if you'd like some advice about what to do at the airport, with kids, strollers and everything in between, read our 10 Tips To Survive An Airport With Kids
What Makes A Travel Stroller?
If you're looking for the perfect stroller to take on your travels, have no fear - there's sure to be something that fits your needs! Whether it's easy transport in and out of cars or carrying through airports – let us help you find the right companion. And if it's a double travel stroller you need then we've already done the research on those for you too, your welcome.
Umbrella Strollers
Umbrella strollers can be an ideal solution when it comes to practicality and convenience for travel. These lightweight strollers offer convenience and portability, making them a great option for parents who are constantly on the go.
They simplify trips with the ability to collapse into a compact form for easy storage, meaning traveling will no longer require extra headaches of lugging around bulky equipment.
Their frames often use durable materials like aluminum or steel for increased strength and stability, making them sturdy enough to withstand bumps and uneven terrain when faced with trail hiking.
Not only do umbrella strollers make traveling simpler, they are also cost-effective compared to other portable options while still maintaining quality which makes them perfect for families all around!
Tri-fold Double Strollers
Tri-fold strollers are an excellent choice for parents on the go! Not only do these sturdy strollers support babies and toddlers, but their three-part folding system makes them supremely transportable.
By simply unlocking the latch, you can swiftly collapse your tri-fold stroller and tote it with ease without having to remove any pieces. This is especially helpful when in airpots, when bulky items can become a hassle.
Plus, many of today's tri-fold models come with additional optional accessories like cup holders and pocket shelving, making them a practical solution for parents who need a hands-free experience that doesn't impede convenience or comfort.
Lightweight Travel Strollers
Lightweight strollers are a great option for parents who want the convenience of having an everyday stroller that weighs very little, but don't want to struggle with the weight of traditional strollers.
These models usually come with all the features and comfort as regular models, just in a more lightweight design.
These strong yet lightweight frames make them easy to carry, while their compact design makes them ideal for travel and maneuvering in tight spaces.
They are also often lighter on the wallet, providing parents with an affordable option that is still reliable when it comes to storage performance and safety features.
And since most of these models don't take up much room or weigh too much, packing them for trips can be a breeze – particularly if you're trying to adhere to strict travel weight limits!
Compact Stroller Wagons
Compact wagon strollers are a great option for families on the go. They provide comfort and ease of use, allowing parents to take kids places without having to worry about the hassle of a regular-sized stroller. These wagons are small enough to fit in most car trunks or overhead compartments on planes, yet spacious enough to hold two small children with all their essentials - from jackets and diapers to food and toys.
From umbrella strollers and tri-folds, to lightweight travel models – there's a travel stroller that can make sure everyone has an awesome adventure.
Find the right one for you today so all of life's journeys are smooth sailing!
How Mothers Best Buys Chooses The Best
Planning a trip with your little one? Don't waste any more of your precious time scrolling through countless reviews or shopping for hours - Mothers Best Buys will help you find the perfect stroller without breaking the bank.
Our expert reviewers have taken all the guesswork out by researching and reviewing only top-rated products, tailored to meet YOUR needs! So take it easy mama - we got this covered just for you!
Umbrella Strollers
UPPAbaby G-Luxe
Best Premium Umbrella Stroller
Check Price on Amazon
Why Parents Love This!
Say goodbye to on-the-go stress! This stroller is designed with parents' convenience and comfort in mind, featuring a one-handed reclining seat for easy naptime adjustments.
An extendable UPF 50+ canopy helps protect your little one from the elements, while the simple fold up design and carry handle make travel hassle-free.
And if that weren't enough – you can store up to 10 lbs of supplies in its convenient storage basket - making it perfect for long adventures!
You get the UPPAbaby branding and quality at an exceptionally low price!
Good To Know
Parents, if you're on the hunt for a lightweight and compact stroller that provides superior stability – look no further than the G-Luxe! With its easy maneuverability in tight spaces and five-point harness system for your child's safety, there's nothing else like it.
Plus with an attachable cup holder to ensure you stay hydrated during holidays or outings - this baby is really something special. Bring convenience home today by adding a travel bag so your trips will always be safe & stress free!
Checklist
✔️Independent seat recline
✔️Carry handle
✔️Lightweight
✔️3 months - 55lb
✔️UPF 50 canopy
BabyJoy Lightweight Stroller
Check Price on Amazon
Why Parents Love This!
Looking for a double stroller that won't weigh you down? Then BabyJoy is just what you need! This ultra lightweight umbrella stroller only weighs 12.5 pounds, making it perfect for busy parents who are always on-the-go and as an added bonus, this little beauty folds up with ease so transporting it from place to place has never been simpler.
Not only does the BabyJoy offer all of the essential features your child needs but also includes spacious storage basket and cup holder - keeping both them and mum hydrated during long days out!
And if going to Disney tops your must do list then don't worry because baby joy meets those size regulations too; no more stressing about whether or not they'll fit through security gates ever again!
Good To Know
No matter your budget, you can find the perfect umbrella stroller for stress-free travel with BabyJoy! Keep those little ones close and safe in crowded areas like airports - this lightweight model offers a five point harness, adjustable sun canopy protection and 360 degree lockable swivel wheels so both passengers are as comfortable as possible.
With such an inviting range of affordable options that don't skimp on quality or features, parents everywhere will be jumping with joy at the unbeatable choice from BabyJoy!
Checklist
✔️6-36 months
✔️Reclining seat
✔️Basket space
✔️Cup holders
✔️Disney Size
---
Tri-fold Strollers
UPPAbaby Minu V2
Best Quality Compact Stroller
Check Price on Amazon
Why Parents Love This!
Are you a parent looking for the perfect travel stroller? Look no further than the UPPAbaby Minu V2! This stroller is sure to awe, with its strong and lightweight aluminum frame, you'll be sure to glide across the pavement whether you're at home or exploring unexpected places.
The Minu is suitable for children from 3 months up to 50lbs and comes equipped with an easy one-hand, one-step compact fold—making it a great choice for busy parents on the go. Not only that but this stroller offers quality Uppabbay ensures with its deeper, easy access basket with a 20lbs weight limit. Additionally, the canopy has been designed with convenience in mind as it features zip out and extendable protection so your little ones can ride protected and comfortable even during sunny days.
But that's not all, because the adjustable leg rest gives your child extra comfort fitting their body perfectly without having to make any adjustments by hand! With such quality features, you won't regret getting an UPPAbaby Minu V2—the ultimate travel companion for those who want safety combined with convenience.
Good To Know
This revolutionary all-in-one stroller will make your life easier as a parent and help you keep up with your busy family. With its all wheel suspension, you'll be able to take on any terrain – urban or rural – while having a smooth ride each time. And it only gets better: The Minu V2 offers an expansive range of expansion options, so you can feel prepared for whatever's next in your little one's growing journey.
Thanks to the Mesa infant car seat compatibility, it can become a double stroller and be suitable for newborns; the PiggyBack rider allows toddlers to stand or sit along for the ride; and when they outgrow that, attach the standing board onto the handlebar and there you go.
If you'd like to read more about how babies can sleep safely in car seats then please read here, especially if you are going to keep them in the car seat on the plane.
The Minu V2 is now a sturdy double stroller ready for a day of fun. Whatever life throws your way, UPPAbaby has got you (and your children) covered!
Checklist
✔️Travel compact fold
✔️Car seat and bassinet compatible
✔️Large UV 50 canopies
✔️One step fold
✔️Extra storage
Summer 3D Pac CS
Check Price on Amazon
Why Parents Love This!
Let the adventures begin! This Summer 3Dpac CS stroller is an ideal companion for your growing family. It's lightweight and compact design makes it easy to bring along on any journey, with a weight of only 16 lbs and an auto-lock fold feature
Your little one will be comfy throughout each ride thanks to adjustable seat reclining positions and leg rests – not forgetting extra large canopies giving ultimate protection from those hot outdoor conditions!
Plus, this amazing stroller grows alongside baby -from car seats in infancy all the way up to toddlers & beyond–now that's what we call versatile! And let's not forget about storage; there are plenty of pockets for parents as well as cup holders for you both plus an extra large basket so you don't have leave behind anything precious at home.
Good To Know
For growing families, the Summer 3Dpac CS Stroller is an ideal choice! This lightweight and compact stroller can hold up to 50 lbs — making it perfect for children from infancy all the way through toddlerhood.
Plus, with car seat compatibility featuring Graco Snug Ride, plus the Chicco Fit2 as well as Baby Trend Snap Gear 35 — journeys will be comfortable and convenient every time.
Checklist
✔️Car seat compatible
✔️50 lbs weight limit
✔️Seats recline
✔️Cup holders
✔️Extra storage
---
Lightweight Compact Strollers
Baby Zen YoYo2
Best Stroller To Take On Board The Cabin
Check Price on Amazon
Why Parents Love This!
The Babyzen Yoyo 2 stroller is the ultimate travel companion for parents who are always on-the-go. Weighing in at just 13 pounds, this lightweight stroller can easily be carried on your shoulder or stored in an overhead compartment on a plane.
The compact design of the Yoyo2 allows it to be folded and unfolded with one hand, making it effortless to use while holding your child. Despite its small size, the stroller features a spacious storage basket and a comfortable seat with multiple recline positions.
The Yoyo 2 also comes equipped with all-terrain wheels that can handle any surface, ensuring a smooth ride for your little one. With its sleek design and practical features, the Babyzen Yoyo 2 stroller is the perfect choice for parents seeking convenience and comfort while traveling.
Good To Know
Make life simpler and more stylish with the YOYO 2 Stroller – from newborn to toddler-aged kids (up to 48.5 lbs), they'll be comfortable, safe & secure! You can use a car seat with this when purchasing the adapters.
Plus you can customize your stroller in nine chic colors and outfit it with a ton of accessories like a footmuff, parasol, cup holder…the list goes on! You can even purchase its very own travel bag with wheels to help carry and protect it.
And what's included? Everything - frame, harnesses canopy extensions...even 6+ color  options so everyone stays comfy and looking good wherever you go.We like the aqua and the toffee.
Checklist
✔️Fits in overhead compartment
✔️Only 13 lbs
✔️Newborn to toddlers
✔️Car seat compatible
✔️Great accessories

Baby Jogger City Tour
Best Travel Jogging Stroller
Check Price on Amazon
Why Parents Love This
The Baby Jogger City Tour Ultra Compact Travel Stroller is the perfect option for parents who are always on-the-go. Weighing in at just 14 pounds, this lightweight stroller can easily be carried with one hand and stored in tight spaces.
The compact design of the City Tour allows it to be folded and unfolded quickly, making it effortless to use while holding your child. Despite its small size, the stroller features a spacious storage basket and a comfortable seat with multiple recline positions.
Good To Know
The City Tour also comes equipped with all-terrain wheels that can handle any surface, ensuring a smooth ride for your little one. With its sleek design and practical features, the Baby Jogger City Tour Ultra Compact Travel Stroller is an excellent choice for parents seeking convenience and comfort while traveling.
Plus it fits an infant car seat to help make your travels that little bit easier. And if you have an older child who sometimes gets tired, or you want to keep check of whee they both are in the airport, you can add on the glider board.
✔️ Carry-on size
✔️14 lbs
✔️All-terrain wheels
✔️Reclining seats
✔️infant car seat compatible
---
Our Bonus Pick!
Graco Modes Adventure Wagon
Check Price on Amazon
Why Parents Love It
Finding the perfect companion for your adventures can be challenging, but with Graco Modes Adventure Stroller Wagon you are all set! Not only is it a whopping 30% smaller than other models - making it ideal to take along wherever you go – its pivot push and pull handle make switching modes easy peasy.
And don't even get us started on those comfortable seats and spacious storage basket that will have room for anything from cozy blankets or spare clothes to snacks and toys. Wherever life takes your family, this stroller wagon has got your back…or rather wheels!
Good To Know
Are you and your family ready to explore? Look no further than this compact stroller wagon for the perfect traveling companion! With a weight limit of 50lbs, it can comfortably carry all of your essentials.
Plus, its adjustable handle makes pushing more comfortable while cup holders and trays make sure that snacks are readily available at any time. And when playtime's over? This convenient option effortlessly folds up into storage - making life easier on-the-go! Even better: car seats with adapters fit right in so everyone is snug as they adventure away.
Checklist
✔️ Car seat compatible
✔️30% smaller than other wagons
✔️Pivot handle
✔️50 lb weight limit
✔️infant car seat compatible
Travel Bits You Shouldn't Go Without
Water Restrictions On Flights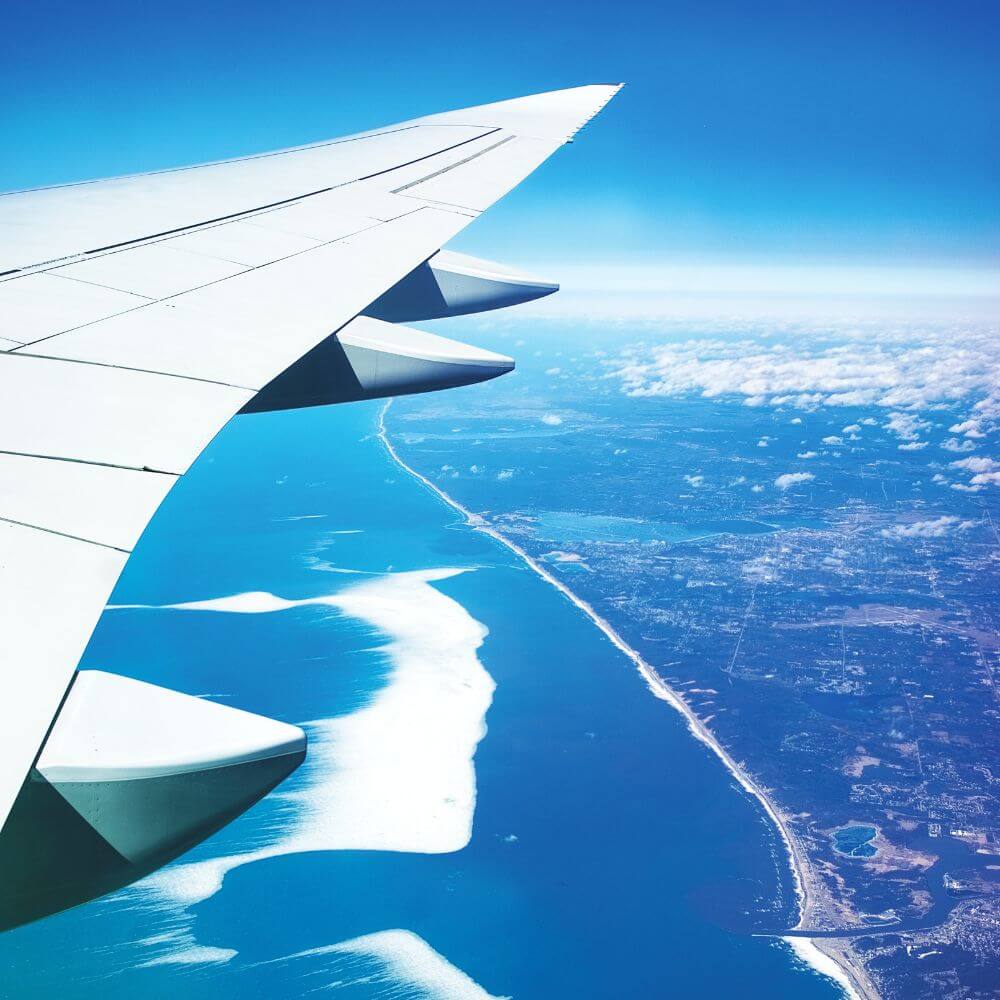 Best Travel Strollers FAQS
Shopping for a stroller doesn't have to be overwhelming. We understand the struggles of trying to decide which one is best, so we've created an FAQ list with essential tips and solutions - plus all the information you need!
Now shopping can be much easier and stress-free knowing that your choices are even more informed than before.
Can I take a stroller on a plane?
Flying with a stroller? Not to worry! Most airlines can help make your journey as stress-free and convenient as possible. If you're looking to check in your stroller, be sure it's properly packed and labeled - many even offer plastic bags or covers for extra peace of mind during transit. Alternatively, collapsible or compact models are best suited for carrying onto the plane - but do double-check the airline regulations beforehand; some may have restrictions on how many items they allow onboard. Bon voyage!
What is a travel stroller?
A travel stroller is a lightweight and compact version of a regular stroller that can be folded down quickly and easily for storage or transportation. Lightweight travel strollers will help you as you'll probably have lost of luggage too. A shoulder strap would also be a great addition for when you need to carry it through airport check-in and security.
Can I check-in an infant car seat?
Yes, most airlines allow you to check-in an infant car seat free of charge. It's always best to check with your specific airline regarding their policies on checking in car seats. Some airlines may provide additional safety requirements or restrictions for checking in car seats, so it's essential to be aware of these before your flight.
Additionally, many parents choose to bring their infant car seat onto the plane and use it as a designated seat for their child during the flight. This can provide added comfort and safety for both the child and parents during the flight. Most brands are allowed, such as Mesa, Graco and the Cybex infant car seat.
How sturdy are travel strollers?
Travel strollers are designed to offer great stability, even with their lightweight frame. However, they may not provide as much support as traditional full-sized models.
Do I need to purchase additional accessories for my travel stroller?
Depending on your needs you might want to consider purchasing an infant car seat adapter or cup holder attachments for more convenience when using your travel stroller.
What are the benefits of using an umbrella stroller?
Umbrella strollers are lightweight and easy to fold, making them great for travel or trips on public transportation. They also usually have smaller sun canopies that offer protection from the sun while still giving you a good view of your child.
What features should I look for in an umbrella stroller?
Features to consider when buying an umbrella include adjustable recline, reversible handles so the parent can face their child, cup holders and storage pockets, breathable seat fabric to keep your little one cool, and adjustable footrests.
What is a tri-fold stroller?
Take your tot in style with a tri-fold stroller! This lightweight and compact design fits into tight spaces for easy storage, while adjustable leg rests allow your child to relax on the go. Some will even fold small enough to go in the overhead bin. Plus, modern models come packed with lots of extras like padded seat, cup holders and snack trays (not to mention attached toys!) that make each outing as enjoyable as possible. With its convenience and reliability, this is one smart choice you'll be happy you made when it comes time for everyday adventures or special trips out!
Is it easy to take a stroller on holiday?
Taking a stroller on holiday can be challenging, but it doesn't have to be. With the right compact double stroller, traveling with children can be manageable and enjoyable.
The key is to choose a lightweight and affordable double stroller that is easy to transport and maneuver in crowded spaces. Look for the lightest double stroller available that still has all the necessary features, such as a storage space, reclining seats and an adjustable canopy.
Additionally, choose a compact double stroller that folds up easily for storage or transportation. This feature will make it easier to take the stroller with you on planes or in rental cars, without taking up too much space.
So, What's The Best Travel Stroller?
Selecting the perfect stroller for traveling with your little ones is crucial. With plenty of options available, it can be challenging to determine which one suits your family and lifestyle. We trust that this guide has provided valuable insights into choosing a stroller that accommodates your requirements while delivering a comfortable ride for both parents and children.
Regardless of whether you opt for an umbrella style, tri-fold, lightweight or wagon, make sure that the chosen option meets safety standards and aligns with your budget. Investing in high-quality gear today will guarantee enjoyable travels later on.
Happy shopping and even happier travels!
Being a parent has its ups and downs - especially when it comes to shopping! Don't let the stress take over; we've got your back. Our team at [company name] makes finding options easy, so you can spend less time in the store and more quality time with your kiddos. And if you decide to purchase one of our suggestions, not only do you get an amazing deal... but we benefit too with a little something that keeps us smiling while helping parents like yourself out!