❤️
Get ready to revolutionize your parenting game with the Mockingbird Single-to-Double Stroller.
The Mockingbird Single-to-Double Stroller is a product that revolutionizes the baby stroller industry. Designed for adaptability and functionality, it adapts effortlessly to your family's needs, ensuring a safe and comfortable ride for your children.
This stroller is destined to become an indispensable accessory for modern parents due to its expandable design, modular features, and unwavering commitment to safety.
This in-depth review examines the Mockingbird Single-to-Double Stroller in great detail, dissecting its features, testing its claims, and revealing the hidden gems that set it apart. We intend to provide a comprehensive and unbiased evaluation of this stroller's features so you can make an informed decision for your family.
This Mockingbird stroller review is your guide to understanding how the Mockingbird stroller can enhance your parenting experience, whether you are a new parent seeking the ideal stroller or a growing family needing flexibility.
❤️
✔️ FREE SHIPPING - ✔️ 30 DAY FREE TRIAL - ✔️ LIFE TIME WARRANTY.
Mockingbird Single to Double Stroller
Best quality convertible stroller and affordable
Great Price Buy Now!
Features & Benefits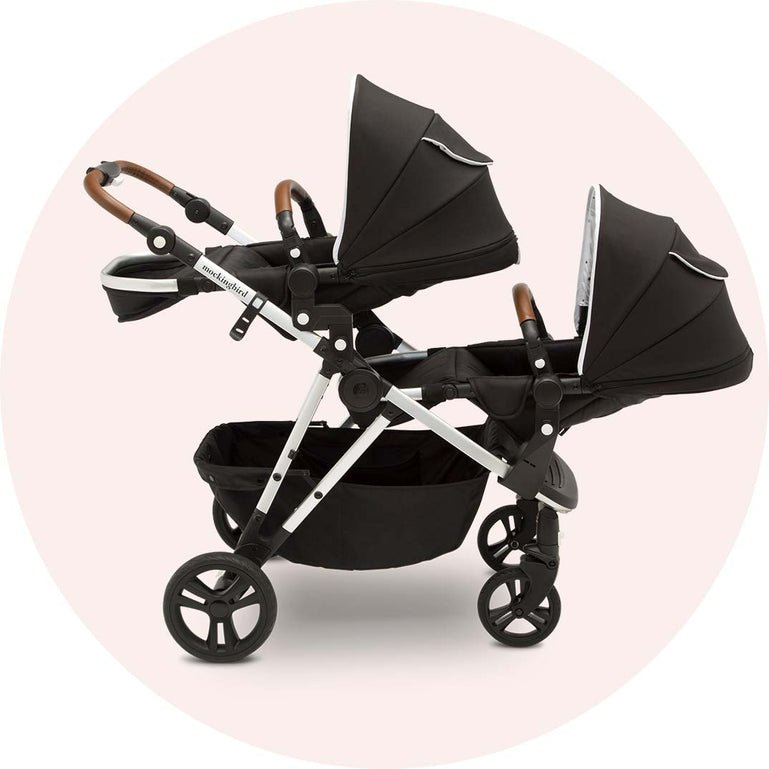 The Mockingbird Single-to-Double Stroller is more than just a stroller; it's a customizable and flexible parenting solution designed to easily adapt to your family's changing needs. Its clever modular system, combined with the option to attach the 2nd Seat Kit or Riding Board, allows you to adapt this pram to a growing brood. With 19+ seating configurations, you'll find the ideal arrangement for your children's comfort and convenience.
❤️
"I love the way the seats can lie horizontal so the kids can nap if they need to, even when there is two of them!" Laura. R (Arizona)
With its magnetic peek-a-boo window, mesh panel for optional airflow, and full-coverage sunshade, the expandable UPF 50+ all-weather canopy elevates outdoor activities in any weather.
The wheels of the Mockingbird stroller are designed for a smooth and dependable ride, simulating the comfort of air tires without the risk of punctures. The one-step footbrake and front-locking wheels guarantee control on various terrains, making every excursion effortless.
Whether the seat is attached or not, folding the stroller with one hand is effortless, and its auto-locking and standing feature simplifies storage. The dual frame and seat suspension create a smoother, more stable ride, while the height-adjustable handlebar accommodates parents of various statures.
With a large, 25-pound-capacity basket, the pram provides ample storage space for all your necessities. From newborns to toddlers and beyond, this stroller's remarkable features and benefits ensure a smooth, comfortable, and fashionable ride for you and your young children.
Let's Talk Colors
One thing we love is a good color combo. If you are anything like me I don't want black, and here we have 5 beautiful color options. What's more you can choose from two interior patterns, and two frames, silver with black or silver with tan brown.
❤️
Their amazing easy to use website allows you to play around with the colors and patterns until you find the one you love!
Product Quality And Safety
The Mockingbird Single-to-Double Stroller establishes a quality standard that transcends the ordinary. This stroller has been rigorously tested to meet and exceed the highest safety standards, making it a fortress protecting your precious cargo. Its locking and latching mechanisms are secure and user-friendly, ensuring your children's safety in upright and reclined positions.
The frame of the stroller, which has been subjected to a rigorous 300-hour test on an irregular surface, demonstrates its resistance to the wear and tear of daily life, handling coffee runs and unexpected bumps with ease. The stroller's ability to withstand bumps and jolts while maintaining its sturdiness is demonstrated by its impact resistance and maneuverability around curbs on the sidewalk.
Reflective lining strategically placed on the front of the basket and the back of the seat improves nighttime visibility, making after-dark strolls safer and more stylish. Regarding quality, the Mockingbird pram sets the bar exceptionally high, ensuring your family's safety and peace of mind.
Growing Family
For me, the best thing about this stroller is how it can grow with you.
One Child, newborn, infant or toddler
If you have one small newborn, you can use the bassinet with the stroller. And did we mention the bassinet is safe for sleeping in too, can be easily removed and put on a stand at home!
You can attach your car seat for easy transition from car to stroller.
Then as they grow they can move to the toddler seat. This is a reversible stroller, so the baby can be facing forward or you, depending on preference.
This toddler seat can be tilted horizontal so they can sleep comfortably.
Two Children
Now the fun starts!
You can have a newborn in a bassinet, and the other in the toddler seat. Or how about one in the car seat and the other in the stroller seat out front watching the world go by.
Maybe you have twins, you can have two car seats, two toddler seats and many more variations to choose from! The second seat is such a life saver when you have more than one child.
Three kids
Now let's say your oldest child is old enough to walk but their little legs get tired easily. They can't go far and you want them to hurry up! Fear not, we have the riding board! They can jump on and the whole family are going at a pace everyone is happy with.
Pros
With its versatile modular design, this stroller adapts effortlessly to your family's growth, easily accommodating multiple children.
Boasting over 19 seating configurations, you can tailor the stroller to your children's comfort and preferences, ensuring harmony during outings.
The canopy's interior black-and-white patterns promote early childhood visual development, combining functionality with a touch of charm.
The wheels mimic air tires' smoothness without the risk of punctures, while the one-step footbrake and front-locking wheels ensure control on various terrains.
Folding the stroller with one hand is a breeze, and its automatic locking and standing feature simplifies storage, making it a parent's dream.
The dual frame and seat suspension work harmoniously to create a stable and comfortable ride, ensuring your child's comfort even on uneven paths.
The rotating handlebar accommodates parents of different heights, ensuring everyone enjoys a comfortable grip while strolling.
The generously sized basket can hold up to 25 lbs of essentials, and its detachable front panel provides convenient access or added protection.
Things To Consider
The extensive range of configurations and features might initially feel overwhelming but trust me it is easy once you know how. It just requires a little learning curve to fully master its functionalities.
While the stroller is designed to fold easily, it might still be bulkier when folded than a slim umbrella stroller (but let's face it all convertaible strollers are). This should be a consideration if you have limited storage space.
While the stroller's wheels are adept at handling various surfaces, true off-road adventures might be limited, so if that's your plan you may need more of a jogging stroller.
If you prefer a basic stroller with only a few features, the Mockingbird's extensive offerings might feel excessive. (But who doesn't want a stroller with all the trimmings?).
Pricing
Mockingbird is a shining example of affordability and functionality in contemporary baby gear. Mockingbird presents the Single-to-Double Stroller as an exceptional value proposition due to its unwavering dedication to providing premium and high-quality products that adapt to the growth of your family. This stroller, priced competitively at $450, is more than just a ride; it is an investment from day one.
With an impressive array of 19 seating configurations, Mockingbird ensures that your stroller will remain a faithful companion throughout your child's development. This stroller's versatility is enhanced by the clever addition of the 2nd Seat Kit, which transforms it into a double stroller for only an extra $145. The option to easily integrate a Riding Board transforms the stroller into a triple, accommodating older toddlers and children without difficulty.
Free Stuff Here!
❤️
We are giving you even more! Use Discount Code MOTHERSBESTBUYS and get a FREE Cupholder! (Stroller and cupholder need to be in the cart)
❤️
The forward-thinking approach of Mockingbird extends to their hassle-free try-at-home policy, which allows parents to road-test the stroller for a generous 30 days to ensure that it fits seamlessly into their daily lives.
Mockingbird brings premium parenting to the masses without sacrificing quality or functionality, with the added convenience of being available at Target stores nationwide.
Comparisons
In a saturated marketplace for baby strollers, Mockingbird distinguishes itself with various features that set it apart. Compared to leading brands such as UPPAbaby and Baby Jogger, Mockingbird's Single-to-Double Stroller is revolutionary in multiple ways. While UPPAbaby and Baby Jogger offer premium strollers with impressive features, Mockingbird is the most affordable brand that does not sacrifice quality.
The 19+ seating configurations of the Mockingbird pram provide parents with unparalleled flexibility to adapt it to their family's changing needs. While UPPAbaby and Baby Jogger offer excellent seating options, their selections may differ slightkly from that of Mockingbird. Mockingbird's Riding Board, which allows for seamless conversion to a triple stroller is on par with UPPAbaby and Baby Jogger's similar board style.
❤️
"What I love about this ride along board is it doesn't get in the way of me walking like other boards too." Oliva. D (New York)
This feature is designed for families with older toddlers and children, making the Mockingbird pram a dynamic option for larger families. Compared to UPPAbaby and Baby Jogger, Mockingbird's try-at-home policy provides a distinct advantage. This hands-on trial ensures that parents can test the stroller's compatibility with their lifestyle before purchasing, enhancing the purchasing experience.
Convert From Car To Stroller!
Yes, every mom's dream, a stroller that fits the car seat easily so you don't have to wake the baby. And this stroller is amazing for that. It can fit not one, but two car seats.
Popular car seat brands such as the Maxi Cosi, Graco Snug, Baby Jogger, UPPABaby, Chicco, Cybex and Britex are suitable to name a few. For a full list of infant car seat models that are compatible click here. You will need their car seat adapter which is so on well priced at $45 you won't even think twice. I would pay double that to have this feature.
We Love This Stroller!
After thoroughly examining the Mockingbird Single-to-Double Stroller, it is evident that this innovative parenting device illustrates thoughtful design, versatility, and affordability. Mockingbird accommodates the ever-changing needs of growing families with its modular system and 19+ seating configurations. The expandable UPF 50+ all-weather canopy with visual development features ensures the safety and comfort of your child in any weather.
The stroller's flawless safety testing, reflective accents for nighttime visibility, and sturdy wheels and brakes instill confidence in every adventure. The Mockingbird Single-to-Double Stroller revolutionizes the concept of purchasing baby gear. Its $450 price tag for a single stroller that converts to a double and can accommodate a third child with the Riding Board is unmatched in the industry in this price range and quality.
Through its try-at-home policy and strategic partnership with Target, Mockingbird demonstrates its commitment to customer convenience, making the stroller's accessibility and compatibility a breeze.
The Mockingbird Single-to-Double Stroller earns our positive recommendation in the end. Whether you are a first-time parent, expanding your family, or searching for a stroller that adapts to your child's growth, the Mockingbird Stroller is a smart purchase that guarantees comfort, style, and functionality. It revolutionizes parenting equipment and opens the door to countless unforgettable family adventures.
Remember it's Free Shipping, 30 Day Trial, and Life Time Warranty!
FAQs
Is the Mockingbird stroller compatible with car seats from other brands?
The Mockingbird stroller is specifically designed to work seamlessly with its accessories and adapters. While some car seats from other brands may be compatible, it's recommended to refer to the Mockingbird website or contact customer support for information on specific car seat compatibility to ensure a secure fit.
How does the stroller handle different weather conditions?
The Mockingbird stroller is designed with versatility in mind, including weather protection. The extendable UPF 50+ all-weather canopy provides ample coverage, featuring a magnetic peekaboo window for airflow and an attachable sunshade for sunny days. The stroller's robust build and high-quality materials can withstand various weather conditions.
Is the Mockingbird Single-to-Double Stroller suitable for newborns?
Absolutely! The Mockingbird stroller is designed to cater to newborns and beyond. With its adjustable seat recline and compatibility with infant accessories like a bassinet or car seat adapter, you can provide a safe and comfortable ride for your little one from their earliest days.
How do I transition between different seating configurations?
Transitioning between seating configurations on the Mockingbird stroller is intuitive and user-friendly. The modular design lets you easily adjust the seating arrangements to suit your needs. Simply follow the step-by-step instructions in the user manual or online resources to switch between forward-facing, parent-facing, and other configurations.
Is the stroller suitable for off-road use?
While the Mockingbird stroller is engineered to handle various terrains, including sidewalks and urban environments, it is not specifically designed for extensive off-road use. The wheels and suspension system provide a smooth ride, but for rugged trails and uneven terrain, you might consider strollers with all-terrain features.
How does the try-at-home policy work?
Mockingbird offers a convenient try-at-home policy for 30 days. Once you purchase the stroller, you can test it daily. Take it for a spin on the street, in your car, and integrate it into your routine. If, within 30 days, you find that the stroller doesn't meet your needs, you can return it for a full refund, no questions asked.
Are the reflective materials on the stroller effective for nighttime visibility?
Absolutely. The strategically placed reflective materials on the front of the basket and the back of the seat are designed to enhance nighttime visibility. They catch and reflect light, making the stroller easily visible in low-light conditions, ensuring you and your children can explore safely after dark.
Can I convert the stroller into a triple stroller?
Yes, you can! The Mockingbird stroller's versatility extends to accommodate a third child with the Riding Board accessory. This addition turns your stroller into a triple, making it an excellent option for families with older toddlers or kids who still enjoy riding along.
This article is based on our own observations and opinions, plus those of others. If you have any queries about this product please contact the manufacturer. If you choose to purchase this stroller, firstly congrats, it's amazing, but secondly, we may receive a small commission.