Get ready for a revolutionary stroller experience – the Mockingbird Riding Board is the ultimate game-changer for family outings, making parent's lives easier!
KID: "Mom I'm tired, my legs hurt" YOU: "Hurry up, walk faster" Sound familiar? Yes it does!
Toddler families can improve their stroller experience with the Mockingbird Riding Board. Its seamless attachment to the stroller lets older children hop on and off, sit or stand and walk. The Riding Board's accessibility, safety, and functionality make it a great addition to any adventure.
This product review explores the Mockingbird Riding Board's features and benefits to help families find a fun way to stroll with kids. We provide a thorough and impartial assessment to help parents decide if the Riding Board is right for their family.
Features & Benefits
The Mockingbird Riding Board is a masterpiece of design, combining practicality and entertainment. The Riding Board opens up new family outing options beyond compatibility with a Single and Single-to-Double Stroller. The stroller's left-side attachment keeps parents' mobility unrestricted and the child forward facing.
With a 55-pound weight capacity, the Riding Board attaches easily, is durable and safe. The Mockingbird Riding Board combines features that enhance stroller experiences, and its benefits demonstrate its importance as a game-changer for growing families on the go.
It comes with a detachable seat too so your kid has a choice of sitting or standing, and a strap to keep it in place when not in use.
❤️
"My favorite thing is the way it attaches to the side, so it doesn't get in the way of me walking and pushing the stroller, the way other riding boards do!" Laura. R (Arizona)
Mockingbird Riding Board
Best sit or stand riding board.
Get Yours Here!
Product Quality
The Riding Board's quality shows that every detail was carefully designed to provide a great experience. As soon as you hold it, the sturdy construction and premium materials are committed to durability and safety.
The riding board lets older toddlers can stand comfortably on the Riding Board's 14.5-inch length and 6.5-inch width. Its one-click attachment and detachment process shows unmatched user convenience. mockingbird stroller.
Turns a single stroller into a double ride, or a double stroller into a triple if you have a third child!
Pros
The one-click attachment and detachment mechanism simplifies the process, allowing quick transitions between using and storing the Riding Board.
Crafted from premium materials, the Riding Board showcases robustness and durability, catering to the demands of active toddlers.
The Riding Board can be easily flipped up and secured with a storage strap or stored in the stroller's storage basket when not in use, offering hassle-free storage solutions.
With the ability to support up to 55 pounds, the Riding Board ensures longevity and reliability even as children grow.
A detachable seat is included, so your child can choose to sit or stand.
Pricing
The Riding Board, priced at $95, embodies the brand's commitment to offering exceptional value to parents. Plus Free Shipping!
That's just an additional cost of $95 and you don't have to hear" my legs hurt" ever again!
Mockingbird's 30-day try-at-home policy shows its customer-friendly approach. This lets parents test the products in real-world situations like streets and cars to ensure it fits their lifestyle. Mockingbird's no-questions-asked return process is free if it doesn't meet expectations.
Comparisons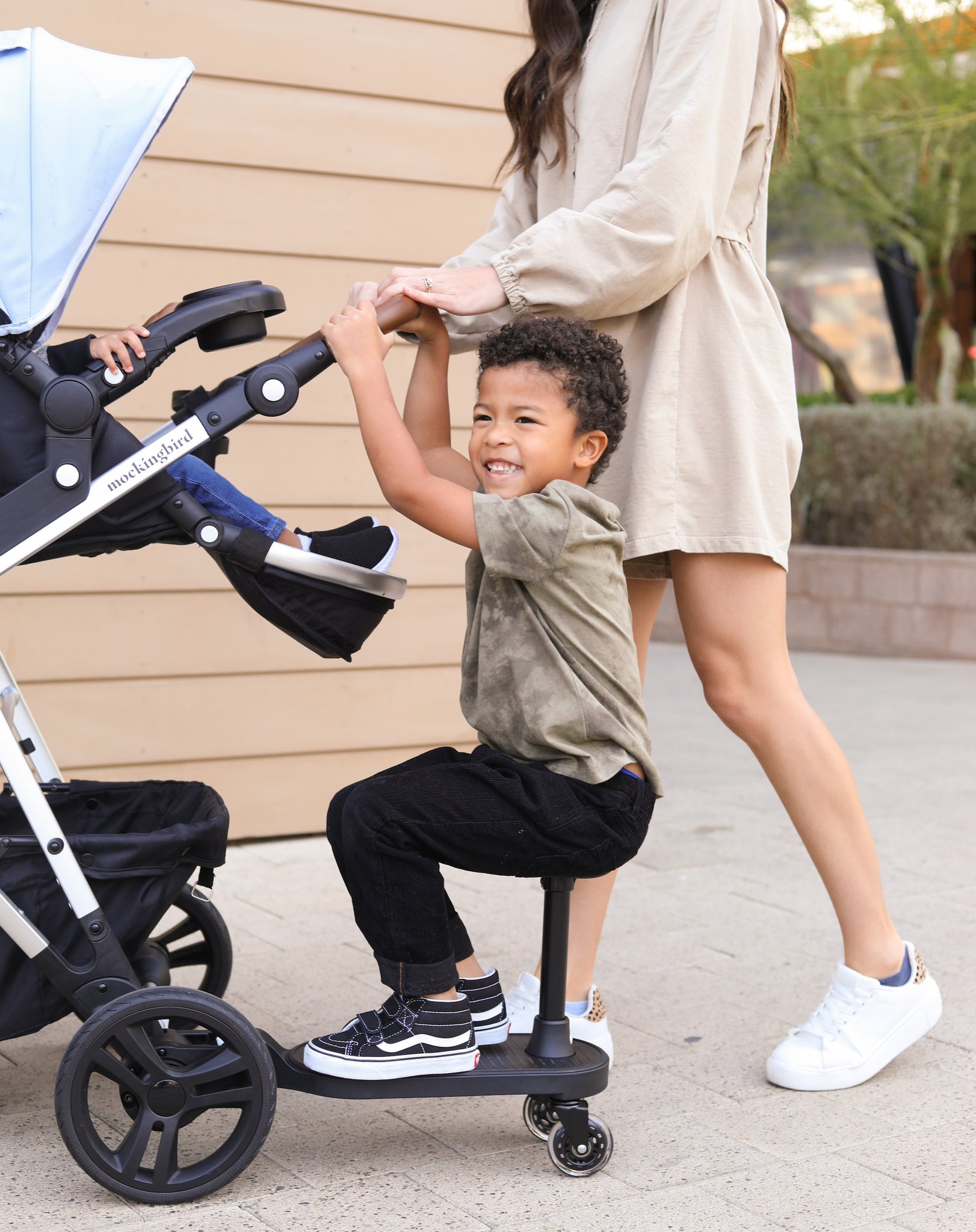 The Mockingbird Board is distinguished from other competitors because of its affordability, sit or stand option, easy fold away and most importantly the side attachment positioning. 👏
Hitch A Ride, Get A Board Today!
After examining the Mockingbird Riding Board's features, benefits, quality, and competitive edge, this accessory is a game-changer for families looking to add excitement and convenience to their strolls.
The Riding Board's high quality and thoughtful design allow toddlers to interact with their surroundings while sitting or standing. We highly recommend the Mockingbird's Board to make every family outing more fun.
Checklist
️✔️ 30 day trial
More Mockingbird Magic
FAQs
What age range is the Riding Board suitable for?
The Riding Board is recommended for older toddlers around 3 to 5 years old, with a minimum height of 26 inches. It's designed to accommodate children who can sit and stand unassisted.
Can the Riding Board be easily stored when not in use?
Absolutely. The Riding Board can be flipped up and secured with a storage strap or detached and conveniently placed in the stroller's storage basket, ensuring hassle-free storage options.
Is the Riding Board compatible with other stroller brands?
The Mockingbird Riding Board is designed specifically for Mockingbird strollers and is optimized for compatibility with their models. It may not be suitable for use with strollers from other brands.
How long does it take to install the riding board?
From when you open the box to attaching it on the Mockingbird strollers, it can be minutes until your little ones are enjoying this bit of kid gear! Making parents lives easier in no time at all.
How do I set up the riding board?
Here is a link to show you the steps and there's even a quick video to watch.
❤️
This article is based on our own observations and opinions, plus those of others. If you have any queries about this product please contact the manufacturer. If you choose to purchase this stroller, firstly congrats, it's amazing, but secondly, we may receive a small commission.