Hey there, dog lovers! 'Tis the season to get holly and jolly, and let's not forget our furry family members. If you're wondering what to put in a Christmas dog stocking to make your pup's tail wag excitedly, I've got you covered! From delicious treats to fun toys and more, I've compiled a good list of ideas for fun and festive treats that will make your four-legged friend's holiday extra special. So, let's get ready to stuff those stockings with love and joy!
And if you want a pre-filled stocking, these are our favorite!
The Importance Of A Christmas Dog Stocking
The contents of a Christmas dog stocking are essential as they contribute in a great way to the joy and happiness of our beloved pets during the holiday season. What's inside that stocking can make all the difference for the holidays for our furry friends, bringing a wag to their tail and a sparkle in their eyes. It's not just about the tangible gifts but the thoughtfulness and love that go into selecting the perfect treats, toys, and accessories.
From ensuring they receive nutritious snacks to keeping them engaged with interactive toys, the items inside the dog Christmas stockings can enhance their overall well-being and create precious moments of play and companionship.
So, let's remember the significance of what we put in to fill that dog's Christmas stocking - it's an opportunity to show our dogs how cherished they are and make their Christmas season unforgettable.
Unique Ideas to Make Your Dog's Stocking Extra Special
One idea is to include a personalized ornament with your dog's name or photo, which can be hung on the Christmas tree year after year.
Another unique addition is a set of stylish and comfortable dog socks or booties, perfect for keeping their paws warm during winter walks.
You can also include a new, interactive puzzle toy that challenges most dogs with their problem-solving skills and provides hours of entertainment.
Add gourmet dog treats or a holiday-themed dog bone to chew for a delicious surprise.
Lastly, if your dog loves dressing up, a festive bandana or a cute holiday-themed collar charm can add a touch of cheer to their holiday outfits.
Adding these unique holiday and decorating items to your dog Christmas stocking will ensure a joyful and memorable holiday season.Great Ideas for Dog Stocking Stuffers
Irresistible Snacks to Spoil Your Pooch
There are so many various options that will leave your pup begging for more. From savory to sweet, dog snacks such as beef jerky, bacon bites, cheese snacks, rope toys, and even peanut butter and banana-flavored biscuits are a hit.
Make sure they are made with high-quality ingredients, so you can feel good about giving your dog a tasty and nutritious gift.
Engaging Toys to Keep Your Pup Entertained
Puzzle toys are an excellent option, they challenge your dog's cognitive skills while providing plenty of fun. Toys that dispense treats are also becoming more popular and will do for for years to come, as they reward your dog for playing and keep them mentally stimulated.
Another option is interactive toys that allow you to play with your dog, helping to foster the bond between you and your furry friend. From tug toys to balls to plush toys, there are plenty of engaging toys for the whole family to choose from that can help keep your pup entertained for hours. Please always supervise your dogs while they play to ensure their safety.
Helpful Gifts For New Pets
When it comes to ensuring your dog's well-being, there are a few essential supplies that you should have on hand and are always a hit. Food and water bowls that are easy to clean and appropriate for your dog's size. Another essential supply is a comfortable, safe bed where your dog can rest and relax. Proper grooming supplies such as a brush, nail clippers, and shampoo are also great gifts for maintaining your dog's hygiene.
A leash, collar, or harness for outdoor activities to keep your dog secure and under control. With these essential pet supplies, you can ensure that your dog's well-being is taken care of and they can live a happy and healthy life.
Stylish Accessories for Your Fashionista Fido
For starters, you can opt for a fashionable collar, such as a leather or colorful patterned one, to make a statement. You can also consider adding a personalized tag or charm to the collar to give it a unique touch. Harnesses are another popular accessory that can be functional and fashionable, with options in various colors and materials.
To keep your pup warm and cozy on chilly days, a stylish sweater or coat can add a layer of fashion to their look. Remember cool sunglasses or a trendy bandana to show off your fashionista fido's style. With all these options, you can be a pet sure to make heads turn whenever you and your furry friend hit the streets.
Unique Gifts to Show Your Dog How Much You Care
One thoughtful gift idea is a personalized dog tag or ID collar engraved with their name or a heartfelt message. How about a squeaky toy, to keep them entertained during playtime. Treats can also make for a special gift, whether a gourmet selection or homemade goodies made with love.
If you want to go all out, you could plan a doggie spa day with your dogs, a grooming session, and a gentle massage. Ultimately, the most important gift you can give your dog is your time and attention. So, spending quality time together through long walks, play sessions, or cuddling on the couch is truly the most meaningful gift.
Make Your Own Dog Stocking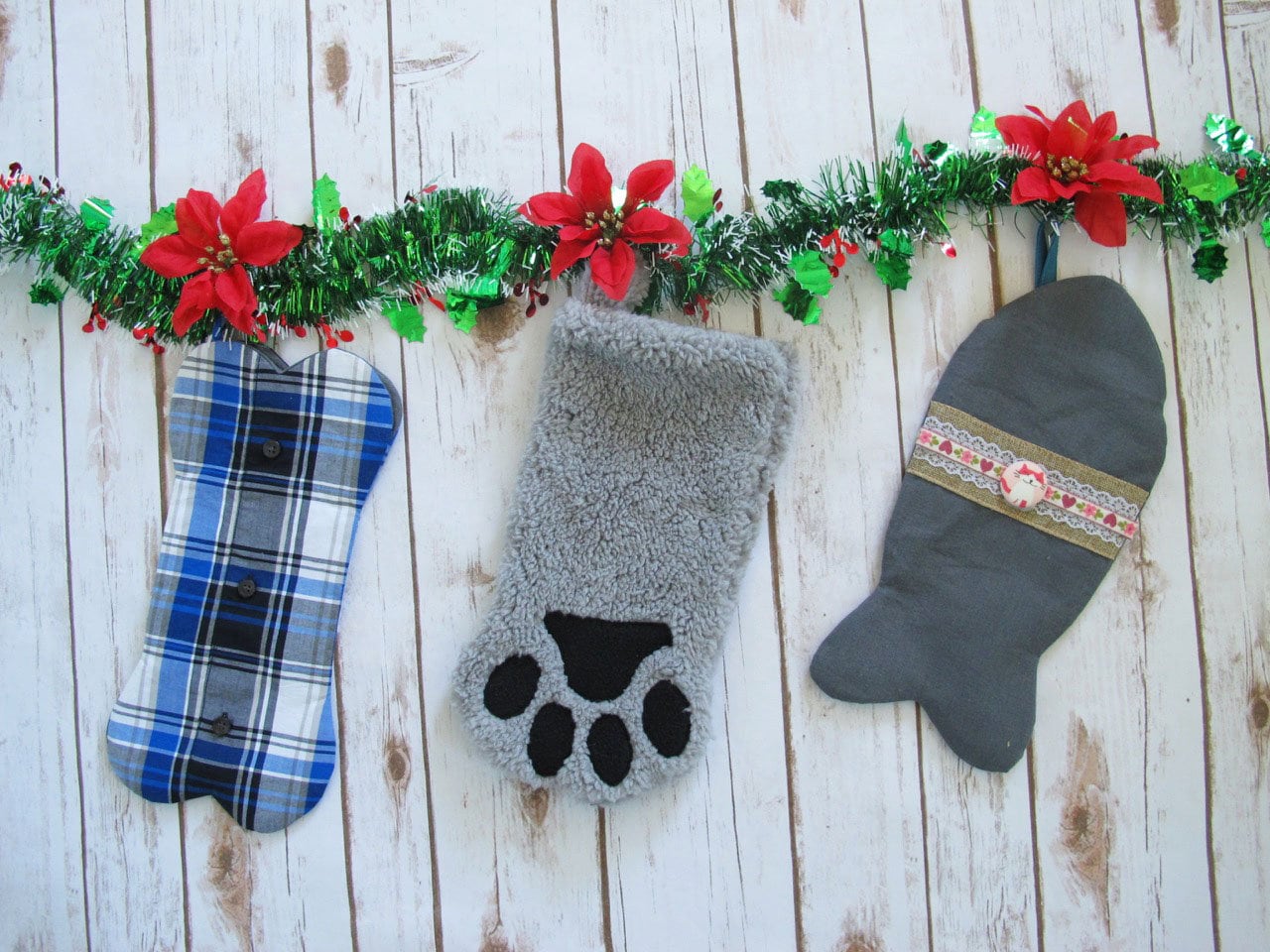 If you'd like to make your own stocking, here's a quick and easy way. You will need two matching pieces of fabric with a festive design. Lay the fabric sides together, ensuring that the right sides face inward. Next, cut a strip of cloth in the shape of a dog bone. This will be used as the hanging loop for the stocking. Sew the ribbon onto the top corner of the fabric pieces, leaving a small opening on one side for turning.
Once the strip is securely attached, sew around the edges of the fabric, leaving the top open. Turn the stocking right side out through the opening and press it flat.
Lastly, add any additional embellishments, such as sequins or buttons, to make your Dog Bone Stocking pattern unique. Hang it up and enjoy the festive spirit it brings to your holiday decorations.
How Many Items in a Stocking?
The number of items in a stocking can vary depending on personal preference and the stocking size. Traditionally, stockings are filled with small gifts and treats, ranging from a few items to several.
Some people might choose to include a handful of items, while others may fill the stocking to the brim with favorite treats. Ultimately, the number of items in a stocking is a personal choice, with no specific rules or limitations.
What are Stocking Fillers?
Stocking fillers are usually inexpensive gifts or treats that are intended to be placed inside a Christmas stocking. These are typically small items that bring joy and surprise, adding an extra element of excitement to Christmas morning.
Stocking fillers can include a wide variety of items, such as a small dog toy, candy or chocolates, mini games or puzzles, beauty or grooming products, small accessories, crafts or art supplies, and more. The purpose of stocking fillers is to provide fun, little surprises that can be enjoyed while unwrapping stockings, and they often add to the festive spirit of the holiday season.