Say goodbye to messy snack times and hello to convenience with the Mockingbird Snack Tray
The amazing Mockingbird Snack Tray makes snack time on the go easy for parents and toddlers. It's built-in cup holder and snack compartment keep drinks and snacks off your child's lap and are easily accessible on any Mockingbird Stroller seat.
Quick Summary Of Review
✔️ Examines the Mockingbird Snack Tray's features and benefits.
✔️Analyze the Tray's functionality, ease of use, and practicality.
✔️ Compare against other similar brands.
✔️ Best price and 30 Day Money Back Guarantee.
Mockingbird Snack Tray
With cupholder and snack compartment
Buy Now!
Key Features & Benefits
With innovation and practicality in mind, this tray fits seamlessly onto Mockingbird strollers to hold your baby's snacks and drinks. Secure and easy to install, it lets you focus on precious moments with your child.
The tray's deep compartments prevent spills and make snacks accessible, encouraging independent snacking and fine motor skills. Its wipeable surface makes cleaning easy, saving time.
How Does It Work?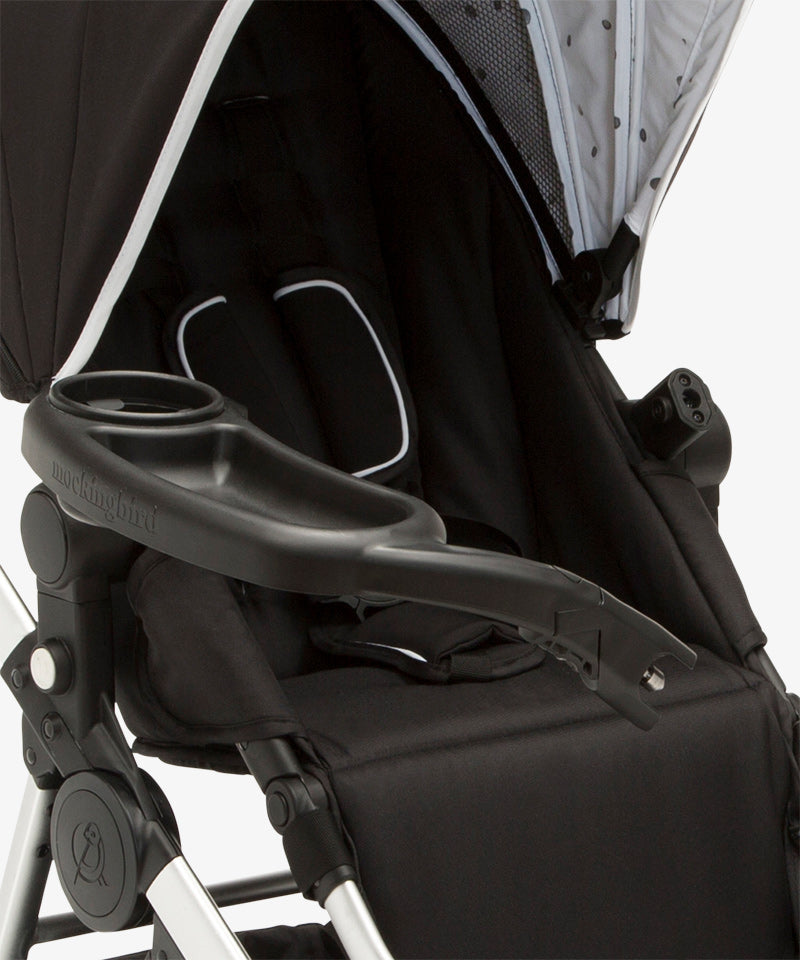 The Mockingbird Snack Tray has a cup holder and snack compartment to keep your child's snacks and drinks close during stroller rides. This innovative tray replaces the child bar and clicks into any Mockingbird Stroller seat.
Its smart dual-release mechanism lets you load and unload from either side while keeping the tray stable. Quality materials make it durable and easy to clean with a wipe-down, making it an essential accessory for hassle-free outings with your child.
Why We Love It!
The tray's versatile design accommodates a variety of snacks, drinks, and small essentials.
Parents can encourage their little ones to develop a sense of independence using the Mockingbird Snack Tray.
Its innovative design allows quick loading and unloading from either side while staying level, reducing spills.
With a designated space for snacks, parents can easily pack nutritious options for their children.
Pricing
The Mockingbird Snack Tray costs $40, reflecting the company's commitment to high-quality, affordable baby gear. That's a great deal as it is a hold lot cheaper than having to buy a new toddler seat because of spilt food and drinks.
Mockingbird offers a 30-day try-at-home policy to fit parents' lifestyles. They can return the tray for free without questions if it doesn't suit them.
Comparisons
The Mockingbird Snack Tray is distinguished by its cost-effectiveness, adaptability, and risk-free trial period. Its competitors, like the UPPAbaby Snack Tray and the Baby Jogger Child Tray, offer brand-specific compatibility, durability, and ergonomic design at potentially higher prices.
In our opinion, if the brand of your stroller makes an accessory, it's a good idea to go with that, as they will fit the best.
Conclusion
The Mockingbird Snack Tray is an affordable and adaptable option for parents seeking a portable snacking solution for their children. With an emphasis on adaptability, this tray can be used on the stroller in a variety of configurations to accommodate the changing needs of families. With fewer spilled snacks you'll have less mess, and more time to play.
The 30-day try-at-home policy demonstrates the company's dedication to customer satisfaction by allowing parents to evaluate the product's compatibility with their lifestyle.
Even better, grab a seat liner to protect that beautiful stroller of yours.
More Mockingbird Magic
Obviously you need a stroller to attach this tray too! So read our review of the Single to Double Stroller here.
And moms need a cupholder too right!
FAQs
How to clean the Mockingbird snack tray
All you need to do is wipe this down. It's made from easy to clean materials. The best way would be to remove it first for a thorough clean. Easier than cleaning a stroller right!
How easy is it to install the Mockingbird Snack Tray?
The Mockingbird Snack Tray is known for its easy installation process. The snack tray easily attaches securely to the stroller's frame without requiring complex tools or adjustments, saving parents time and effort.
❤️
Feeling the strain of being a busy parent? Mothers Best Buys has got your back! We're on a mission to make shopping as effortless and enjoyable as possible so you can spend more precious time with your kids. And, if one of our awesome recommendations ends up earning us commission - even better!