Discover how the Mockingbird Parent Organizer redefines on-the-go parenting with its ingenious design and unparalleled convenience.
The Mockingbird Parent Organizer is a great stroller accessory that provides organization and convenience for on-the-go parents. Its spacious design, insulated cup holders, versatile attachment system, and easy-to-maintain materials make it the ideal stroller accessory for keeping essentials close at hand.
In this review, we delve into the features and benefits of the Mockingbird Parent Organizer to provide parents with a thorough understanding of why this accessory is a game-changer. We outline the key features that make the Mockingbird Parent Organizer a necessary addition to your strolls.
Mockingbird Parent Organizer
Best small, convenient stroller bag
Great Price Buy Now!
Features & Benefits
The large front zip pocket makes accessing your phone, wallet, and keys easy. Two mesh pockets inside the organizer help organize items of various sizes without compromising accessibility. The Mockingbird Parent Organizer's two insulated cup holders make staying hydrated during parenting easier than ever.
These cup holders are cleverly designed with three adjustable velcro size settings to fit a variety of beverage containers.
Drainage holes eliminate spills and condensation. A key benefit of the Mockingbird Parent Organiser is its adaptability to all handlebar positions. This organizer is accessible for tall and short people. This unique feature allows parents and carers of different heights to use the organizer comfortably without compromising functionality.
❤️
We love the addition of a helpful key ring to help you keep your keys within easy reach and keep them safe!
Product Quality
With its exceptional quality and durability, the Mockingbird Parent Organizer establishes a new benchmark for stroller accessories. This organizer is constructed from premium materials to withstand the rigors of daily use while retaining its pristine appearance. The durable construction ensures it can withstand parenthood's rigors, including spills, dirt, and constant handling.
Its thoughtful design and attention to detail are evident in every aspect, from the secure Velcro straps that keep it securely attached to the stroller handlebar to the adjustable cup holders that accommodate various beverage sizes.
The Mockingbird Parent Organizer is designed to provide enduring convenience without sacrificing style or functionality. It features wipeable, easy-to-clean surfaces that can be cleaned with ease with a damp cloth.
Grab their snack tray whilst your here too!
Why we love it!
The velcro straps provide a secure and hassle-free attachment to the stroller handlebar, ensuring it stays level throughout your journeys.
The spacious design accommodates a wide range of essentials, allowing you to carry everything you need with not one but two insulated cup holders.
The large front zip pocket grants quick access to frequently used items like your phone, keys, or snacks, eliminating the need to rummage through your bag.
By keeping your essentials within arm's reach, the Parent Organizer elevates your strolling experience, allowing you to focus on your child and the surroundings.
Perfect for constantly moving parents, the stroller organizer streamlines your outings, whether a stroll in the park or a quick trip to the store.
Things to consider
The Mockingbird Parent Organizer offers a range of features, but it could benefit from a wider variety of color choices to match different stroller designs and personal preferences.
While its spacious design is advantageous, the generous size might make storage a little less convenient.
Although the stroller organizer is designed to fit the Mockingbird Stroller handlebar, potential compatibility issues with other brands might arise, limiting its universal use.
Pricing
The Mockingbird Parent Organiser, which costs just $30, provides exceptional value within a reasonable price range.
This stroller organizer exemplifies the Mockingbird brand's commitment to providing reasonably priced premium and functional baby gear. Mockingbird is distinguished by its customer-centric approach.
The 30-day at-home trial period permits parents to test the Parent Organizer's compatibility with their daily routines and real-world scenarios.
The commitment to customer satisfaction extends to the no-questions-asked return policy, under which parents may return the organizer if it does not meet their needs. This pricing structure and customer-centric policies make the Mockingbird Parent Organiser an excellent value and a risk-free investment for enhancing your parenting journey.
Market comparisons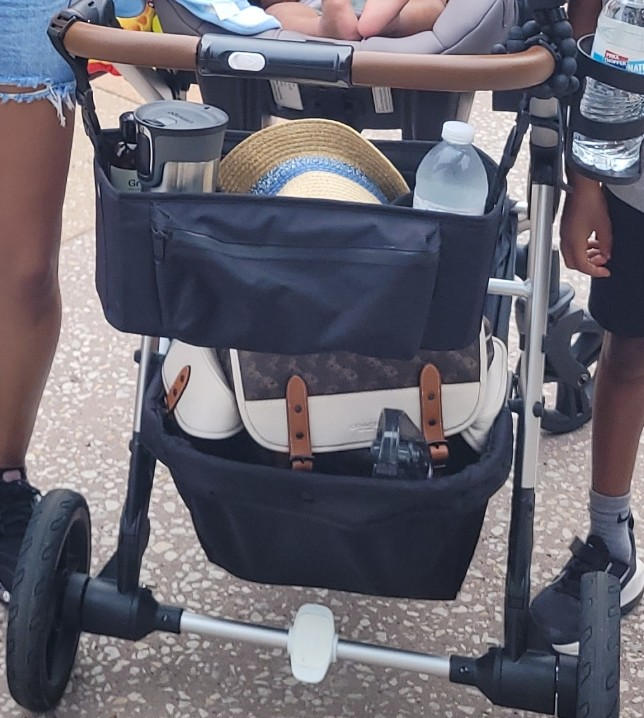 In the category of stroller organizers, the Mockingbird Parent Organiser is a great contender against competitors such as the Skip Hop Grab & Go Stroller Organiser and the Ethan & Emma Baby Stroller Organiser. Whereas the Skip Hop Grab & Go focuses primarily on storage space with multiple pockets, the Mockingbird Parent Organiser goes above and beyond with its insulated cup holders, ensuring your beverages remain at the ideal temperature.
Likewise, the Ethan & Emma Baby Stroller Organiser prioritizes pockets but lacks an adjustable cup holder. The Mockingbird Parent Organiser is distinguished by its 30-day try-at-home policy, allowing you to test its compatibility in various settings before purchase. The $30 price of the Mockingbird Parent Organiser strikes a balance between the more expensive Skip Hop option and the inexpensive Ethan & Emma organizer.
So, get organized and go!
After reviewing the Mockingbird Parent Organiser, it's clear that modern parents need this pram accessory. The parent Organiser simplifies stroller outings with its spacious design, adjustable cup holders, versatile attachment, and easy maintenance.
To keep essentials organized and accessible, its thoughtful design meets a variety of needs. The Parent Organiser enhances parenting journeys ffor just $30.
In conclusion, the Mockingbird Parent Organiser is a reliable, versatile, and user-friendly accessory that makes everyday strolls easy and fun.
More Mockingbird Magic
FAQs
Is the Mockingbird stroller organizer compatible with all stroller models?
The Mockingbird organizer is specifically designed to work seamlessly with the Mockingbird Stroller. While it may be compatible with other stroller models, its optimal performance and attachment are ensured when used with the Mockingbird Stroller.
How secure are the cup holders?
The Mockingbird organizer's cup holders are insulated to keep your beverages at the desired temperature and come with adjustable velcro settings. These settings allow you to customize the cup holders' fit to accommodate various drink sizes. This ensures a snug and secure hold for your beverages, minimizing the risk of spills or accidents while on the move.
Can I use the Parent Organizer from birth?
The Mockingbird organizer is an accessory designed to enhance your stroller experience, but it is not intended to be used directly for newborns. It's recommended to use the organizer when your child has reached an age where stroller outings become more frequent, typically after the initial newborn phase.
We always give you our honest opinion at Mothers Best Buys. We try and make those shopping decisions easier for busy parents. If you choose to purchase anything we recommend then good for you, and we may just get a small commission too!